Parker Hysick's Make-A-Wish
Pittsburgh Steeler Man Cave
Make-A-Wish contacted the  Home Builder and Remodeler's Association of CNY and asked if there was anyone  in the organization who might be able to help them fulfill a child's wish for a Man Cave.  Martin Custom Homes was contacted and we said we would be happy to do all we could to make Parker's wish come true.  (Click on the Golisano Childrens Hospital link below for more information about Parker.)
We met with Parker Hysick's parents and representatives from the Make-A-Wish foundation at the Hysick home in Baldwinsville, NY.  We surveyed what we had to work with to create a Pittsburgh Steelers Man Cave in their home.   It was  determined that there were a few chaleneges, but nothing that we couldn't handle. 
We then set out to see what kind of deals, gifts, services, and donations that we ,could obtain from our suppliers, friends, and subcontractors.  The goal was to keep the cost to the Make-A-Wish Foundation as low as possible.  The great people we have around us really came through!
Listed below are people who, at the request of Martin Custom Homes, contributed materials, supplies, labor, and services and made this project doable.  Thank You so much to these individusls and companies!  Parker's Steeler Man Cave cost Make-A-Wish about $5,800 for the entire 2 room Man Cave including  furnisings!  Without everyones generosity, the costs would have been in the $22,000 to $25,000 range.  This includes framing construction and materials, trim, doors, basement stairs, electrical, heating, painting,  game tables, dart board, carpeting, electronic reclining sofa, projector, 100″ screen, audio-video equipment, surround sound speakers, TV, paint and lighting.
Check out the videos and articles below from Make-A-Wish Foundation, Spectrum TV, CNYCentral.com and Upstate Golisano Children's Hospital.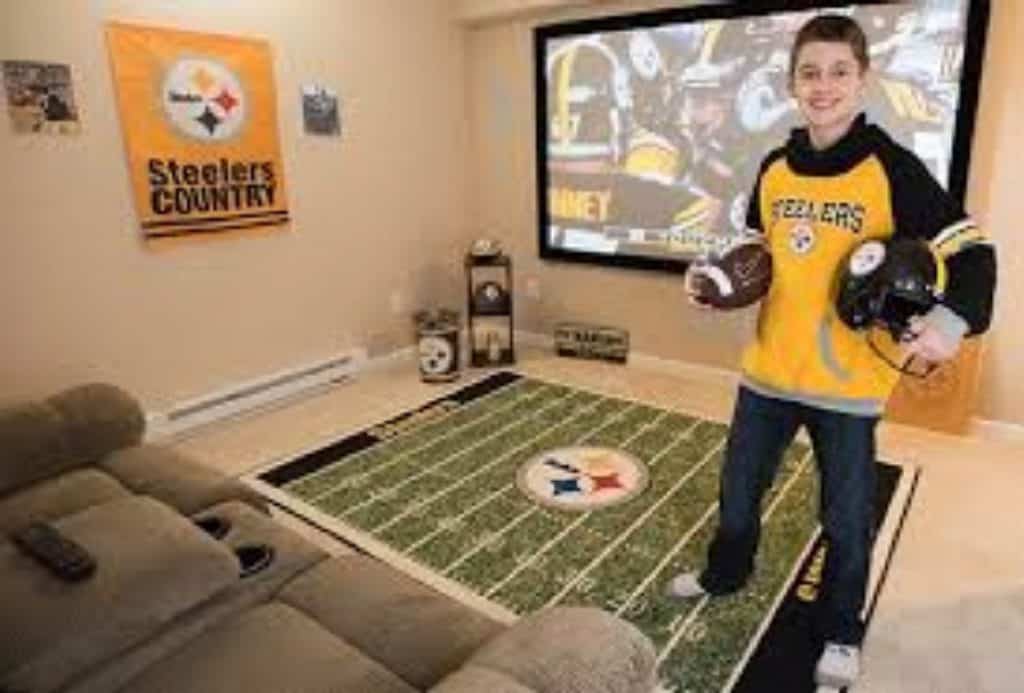 Contibutors to Parker's Man Cave
Adirondack Furniture
Affordable Carpet and Flooring 
C.K. Construction Unlimited,  LLC
Hoag Drywall and Finishing
Installations Unlimited
Interior Concepts & Design, LLC
Martin Custom Homes
TAG Mechanical Systems Inc.
Tarson Pools, Spas, Patio Furniture and Game Tables
Videos and Other Information
(Click on the items below to view)