Meet the Builders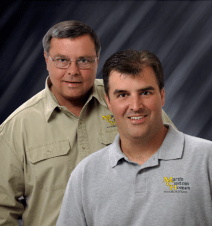 Dave Martin and his son Andy have worked together since Andy was a young boy. They take great pride in the quality of all their construction projects, whether it's new construction, an addition, garage, or a 5,000 sq ft home.
Dave started in construction as a teen working with his uncle as a mason's apprentice in the Capital District Area of NY State. He continued working as a laborer and carpenter while in high school
and college. After college, Dave began a career in the corporate world. As his family grew, his son Andy encouraged Dave to return to the construction business. Together they began building
decks, garages, and simple remodeling projects, which soon developed into building new homes and major additions, attracting new customers strictly by referrals. Dave and his family live in Central New York.
Andy, as a teenager attended the Boces program graduating number one in his construction/carpentry class. After high school he worked for Stickley Furniture and RB Woodcraft before partnering with his father. Andy takes the lead overseeing all the companies construction projects and material acquisitions. Construction has been his dream since he was a young boy, and now he's living his dream. Andy, his wife Nikki, and their 2 daughters also live in Central New York.
Martin Custom Homes is a local, family-owned and operated custom home builder, priding themselves on providing quality construction. Martin Custom Homes has been in home construction since 1993. Their personal dedication to excellence, integrity, and service has strengthened their reputation among customers and peers alike. They welcome your input before and during the building process.
Martin Custom Homes commitment is to make your building experience enjoyable and exciting!
Contact us at [email protected] to start building today!