What others are saying about Martin Custom Homes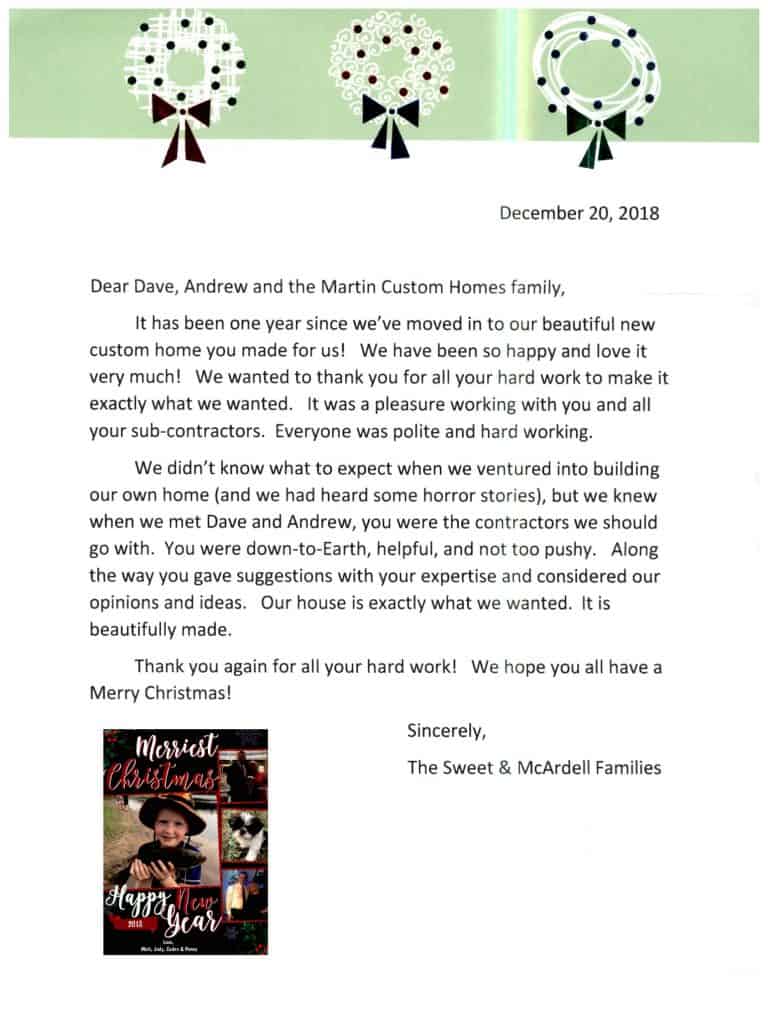 We highly recommend building your dream home with Martin Custom Homes. David, Andrew and their team were great to work with. We met with several other builders and the Martins were the most accessible and responsive by far. All our correspondence was directly with David and Andrew, not a "middle man" or real estate agent. They were extremely helpful and informative throughout the planning, design and construction to ensure everything went efficiently, on-schedule and on-budget. They also helped us to confirm that we were purchasing the right piece of land to accommodate our custom design and future needs. I was a challenging engineer/client with my continuous inspections and reviews. They were always accommodating and provided us with a well built and high-quality home that we will enjoy for many years.

Joe and Nisha Nadzan
This is an email thread between a client, Andrew Martin and Dave Martin. We have removed her email address to protect her privacy.  Any client that we are working with will be given the opportunity to contact the sender as a reference.
> On Dec 3, 2015, at 12:36 PM, Gail Longcore wrote:
Hi Andy,
I know Bill is usually the one to communicate with you, as it seems there are always questions in our first home building experience.  I wanted to send a note to thank you, now, during the process. It has been such an excellent experience working with you!  Bill and I very much appreciate your prompt responses to our inquiries, and you have maintained an incredible track record of response!  Our experience with the vendors you have sent us to has also been very positive.  I loved working with Susan Doolittle at VP Supply, and Tracy at Modern Kitchens, as they were both patient, informative, professional and always helpful.  I felt it important to share our gratitude along the way.  Life is too short not to receive well-deserved compliments.  Thank you very much!  It has been great, and I eagerly anticipate our home stretch with you towards completion of our Martin Custom home!
With kind regards,
Gail Longcore
On Thu, Dec 3, 2015 at 1:21 PM, David Martin wrote:
Hi Gail
Thank you!  Andy works very hard, along with the rest of our team, to make your experience as enjoyable, exciting, and stress free as possible.  I am also very proud of the way he responds and reacts with our clients.
Do you have a problem if we use all, or excerpts of your kind words on our website or in other marketing. I can't tell you how much it is appreciated that you've taken your time to let us know your feelings.
We will continue to try to make your experience as pleasant as possible as we do with all clients!
Dave Martin
315-374-4527
> On Dec 3, 2015, Gail Longcore replied:
I agree. You have every reason to be extremely proud of your son!!  He is so committed to doing an excellent job, and always makes us feel like we are the only clients he is working with. Of course, we can only imagine the multiple demands he manages every day. Absolutely fine to use my comments! I have loved the experience and am so grateful. Whenever I mention to people that my husband and I are building a home, I inevitably receive a groan in response. I am proud to tell them our experience has been wonderful, and always mention your names. =)
Thank you, Dave!
Gail
"Contracting with Martin Custom Homes to have our house designed and built has been a memorable and rewarding experience. Beginning with a conceptual layout, through final design, and during construction, the Martin Custom Home team worked diligently with us to deliver the finished project that matched or exceeded our budget, schedule, and quality expectations."  
Pete and Mary Moore
"Their #1 priority was our satisfaction and the quality of our new homes construction. The best part of having Dave and Andrew build our home was their commitment to the schedule and ability to work with them every step of the way. We really can't say enough good things about our experience with Martin Custom Homes. If we ever have to build another home, they would be building it for sure."  
Rick and Marlene Slade
"Building a new home can be stressful and confusing. However, with Martin Custom Homes, the process was enjoyable and rewarding. Both Dave and Andy involve the homeowner 100% in the process. They make themselves very available for any and all questions. They guided us through all the choices and decisions we needed to make. We really enjoy the layout of our transitional colonial. Its' unique design is unlike any we had seen before. Attention to detail is of utmost importance
to the Martins and it is obvious in the end product." 
 Mike and Amy Garafalo